Our Mission & Vision
We Believe that Retirement Life is to be Enjoyed!
Muskoka Hills Retirement Villa recognizes and upholds the Residents' Bill of Rights. We at the Villa respect the distinction and unique worth of each resident and we promote a complete care approach including emotional, physical, and spiritual aspects of care for our residents.
We promote the quality of life by ensuring that opportunities are available, accessible and developed in order that every individual resident is assisted and motivated for growth in all dimensions of life, being physical, psychological, spiritual and social.
We strive for excellence in all our endeavors, not only to meet the standards and regulations of the Ministry of Health and the standards set by the Canadian Council on Health Facilities Accreditation but also to ensure that our mission and philosophy are integrated into the day-to-day activities for all of our residents.
We encourage the involvement of the residents, families and representatives in the decision-making processes concerning their individual plan of care. Muskoka hills Retirement Villa fosters a positive alliance itself and the broader community thereby promoting cooperation, accessibility and accountability to the community it also serves.
We manage human and financial resources responsibly, and provide cost-effective services to meet the individual needs of our residents. We establish criteria to evaluate the efficiency and effectiveness of the quality of care and our services.
Vision Statement
Exceptional & Affordable Retirement Living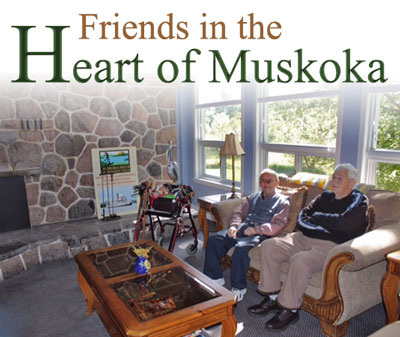 This vision statement is a clear statement of what our personnel believe to be their purpose and how they want to achieve it.
Towards:
Is defined as providing opportunities to all residents and persons associated with the Home to promote the individual's well-being and thus promoting their quality of life.
Sunshine:
Is defined as providing an environment that promotes a sense of well-being, being physical, mental, social and spiritual; fosters feelings of warmth, trust and comfort; and nurtures feelings of satisfaction and happiness as manifested by the residents' sentiments of inner tranquility and peace within themselves.