Exceptional Retirement Community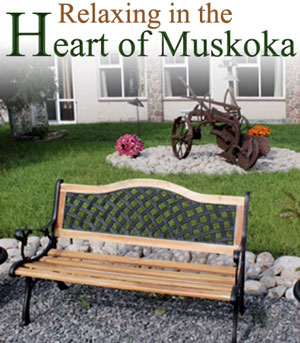 Walk through our Attractive Entrance Garden Step and through the entrance to the Sun Room at Muskoka Hills Retirement Villa, and come into a world of lively seniors living. We are within a 5 minute drive from the center of Bracebridge.
Our friendly Staff will provide you with 24/7 Care with a Smile. The Winona Café Lounge is the perfect place to meet with friends and enjoy a Coffee and a Danish. Enjoy a game of Billiards, Table Shuffle Board, Cards, or simply enjoy a view of Nature over the 7 acres at the rear of the Villa.
Join our book club or garden club, read the paper or current magazines, and relax in the Great Muskoka Room. Enjoy daily program events with other residents. Take in a matinee or evening movie at our Movie Room. Choose Muskoka Hills and see how great life at the Villa can be. It is your time for Exceptional Retirement Living!
Hear From Our Residents & Family

I can't go in to see my folks, but when talking with them on the phone, everything is great. They seem to be happy and getting through this. The a staff are very caring. No Covid. They locked down early. Thanks.

L.T.

My husband just finished RESPITE there at MHR. He quite enjoyed being pampered. It is just like being at a cottage hotel. The room was quite nice. everyone has their own space, so distancing was not a problem. Meals were good and the other folks there are very friendly. We will be back for sure.

L.K.

Just to let you know I go to the church service you hold here every week, with your Pastor John. Thanks

David

Nicole, thanks for a great afternoon of games and ice cream. You make it worth getting up in the morning.

Bob

Pastor John…what a great funeral you held for our friend in the Chapel today. The place was full and your sermon touched me. I guess we are all on the way and will have to meet God at some point. You have helped me to do that.

E.K.

The management listened and changed the Sunday evening dinner. We sure love it here at the Villa. I enjoy just sitting here and enjoying the snow on the deck and the birds in the feeder. The dog visit today was also appreciated.

J.S.

Today I met the Mayor here and Ruth Onley, the former L Governor's wife. Thanks for arranging the Christmas concert. It was amazing.

Dave

Dear Office Staff. A short thank you for letting my family use the dining room for my Birthday…number 80 so a big deal. It was fun and my grand children loved to play all the games and shuffleboard you have here.

George

Just a quick note to say thanks for getting the Pinball Machine. I suppose I should use the Snooker table more but I need more friends to play with, so this has been good as I can play against myself.

Ken




Just a thank you note. My mom and dad have now moved in and they love it. The staff seems so nice and everything is done for them. Thanks so much.

Sue




You looked after my mother with expertise this week. Your staff at Muskoka Hills Retirement Villa, is professional.

Carol and John




As a pastor I appreciate all you do here for the residents. You look after us well. I love it here.

William




Thanks for organizing the BINGO and the card game this week. It was great and I won.

Jack